Jade Mountain St Lucia
A Piece Of Heaven Amongst The Pitons.
This amazing work of art was created by its owner Nick Troubetzkoy; a Russian Canadian Architect that made St Lucia his home and I have to think the locals are glad he and his wife Karolin Executive Director of Anse Chastanet and Jade Mountain Resort did!
The Troubetzkoy purchase was the hillside resort overlooking the beach called Anse Chastanet, each hotel room uniquely finished to be one with nature. Guests here have views of the amazing pitons and sunsets over the beach, both views are breathtaking.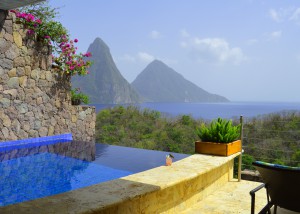 Keeping in harmony with nature a few steps above Anse Chastanet is Jade Mountain and it seems to also be a few steps closer to heaven!
Jade Mountain does not have hotel rooms its has  "Sanctuaries" each one overlooking St Lucia's Pitons.  As this hotel only has 29 sanctuaries most of them with their own infinity pool, this small number of rooms means that each guest gets dedicated staff to cater to their every need.
I was unsure before my visit how I was going to find a safe meal in this All Inclusive Resort, I usually play it safe and avoid any food that shows signs of flavor as this usually means gluten ingredients.  I asked to speak with the Executive Chef Stefan Goehchk, who went out of his way to meet with us.  We had such an enjoyable conversation with him and he was so proud of his staff and their understanding the importance in preparing safe meals for Celiacs, they work hard and make sure there is no cross contamination in his kitchen.  Our amazing Butler or Major Domo Allain when making our dinner reservation made sure the waiter knew of my special request for gluten free so it really was a worry free experience.
As this resort caters to only 29 "Sanctuaries" they can give each guest excellent service and take the time to prepare amazing meals.  What Stefan was most proud of was his dedication to only having pure gluten free ingredients in his kitchen and how Jade Mountain are mastering this by harvesting their own ingredients from the hotel's own farm. With Emerald Farm they are on their way to creating a true farm to table experience.
After learning about Emerald Farm we were very excited to visit and see where our food was coming from.  Only a short ride away we were taken to the farm for a tour.  We were a met by Pawan Srivastava, PhD, he introduced himself and gave us a quick background on his expertise in Horticulture, his excitement was contagious and I was excited to start our tour.  Martin showed us around the farm and I must say it was a humbling experience.  In New York City food just appears and we disconnect from the hard work that goes into getting it to our homes.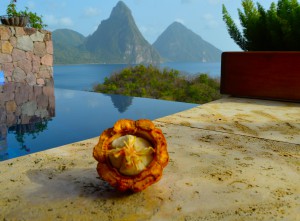 My favorite tree on this farm was the cacao tree, they have over 1000 cocoa trees that they use to make their own artisanal chocolate, they of course also grow many types of vegetables, micro greens and fruits; their Mango is to die for. They also grow their own flowers and ornamental plants to decorate the resort.